Overwhelming adoption by e-commerce retailers accelerated the expansion of OnTrac's coast-to-coast delivery service.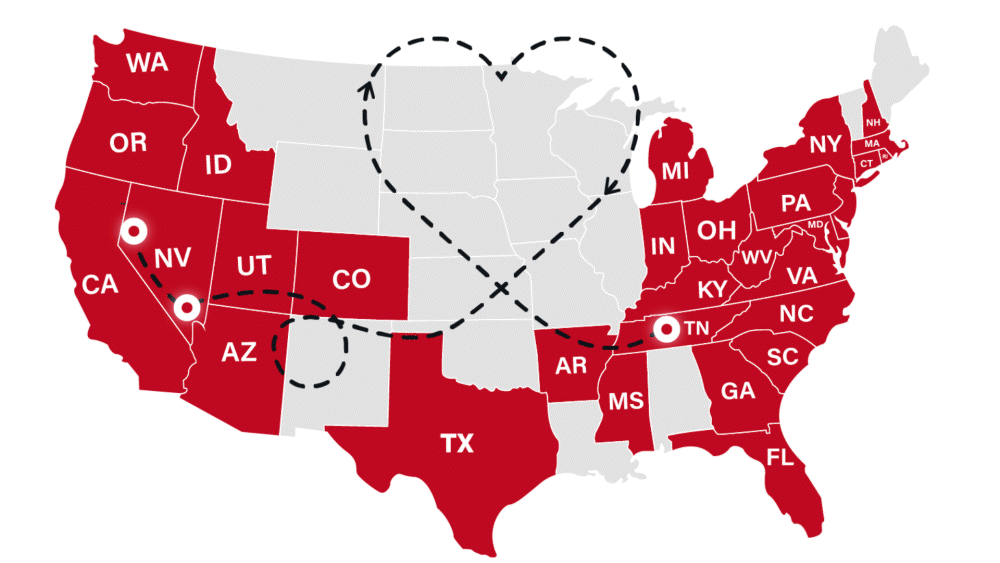 We're thrilled to expand our transcontinental delivery service to an additional three sort centers in Las Vegas, Nevada; Reno, Nevada; and Nashville, Tennessee to help retailers reach consumers in the country's most populated areas with faster, last mile e-commerce delivery at a lower cost. Launched in July 2022, our transcontinental service connects OnTrac's complementary East and West Coast delivery footprints to move packages from coast to coast in as little as three days. The expansion was accelerated by feedback from OnTrac's customers and increased demand from omnichannel retailers and direct-to-consumer brands for an alternative carrier with speed, cost-savings, flexibility, service, and nationwide coverage.
"We have been blown away by the rapid adoption of our transcontinental delivery service and the positive feedback we've received from our retail partners since launching one year ago," said Josh Dinneen, Chief Commercial Officer of OnTrac. "This overwhelming response reflects the growing need for a proven alternative to the duopoly. We are excited to expand our coast-to-coast service and open three additional lanes to further empower retailers with faster delivery, cost-savings, top-notch service, and nationwide scale."
Benefits of OnTrac's transcontinental service include:
•
Reach up to 80% of the U.S. population across 31 states and Washington, D.C.
•
Build brand loyalty by meeting consumer expectations of faster delivery
•
Coast-to-coast coverage empowers retailers to grow their businesses
•
Diversify carrier mix with a proven alternative
•
Seamless technology integration
In addition to expanding our transcontinental service, we recently launched our faster, last mile e-commerce delivery in Texas in the fast-growing urban megaregion of Dallas-Fort Worth, Austin, Houston, and San Antonio to help retailers and shippers reach 19 million new consumers. Texas will serve as a critical connection point between the complementary operating networks, allowing retailers to leverage OnTrac to reach more of their customers across the country's most populated areas.
OnTrac continues to innovate and help our retail partners build competitive advantage through faster delivery solutions that win customers, build brand loyalty, protect margins, and diversify carrier mix. Learn more about out transcontinental delivery service and how you can partner with us.