It's no secret that buy online, pick up in-store (BOPIS) took off during the pandemic. Retailers adopted BOPIS and other forms of click and collect, including curbside pickup, as a way to help offset rising logistics and last-mile delivery costs. Today, all retailers are using ship-from-store and 98% are offering BOPIS from at least some store locations, with 83% planning to expand these options to additional stores.
While there's no denying the growth of BOPIS, is this the most effective strategy for retailers to invest in moving into the post-pandemic era?
Consumers overwhelmingly prefer having their online orders delivered to their homes, despite almost all retailers offering BOPIS. The growth in consumers' usage of BOPIS is not because of convenience or preference, but because of a lack of free and faster delivery. Forty-four percent of consumers were driven to use BOPIS when a retailer failed to offer faster delivery, while 20% used BOPIS to avoid paying shipping fees. Additionally, 43% of consumers cited the need to travel to the store as the aspect of BOPIS they dislike most.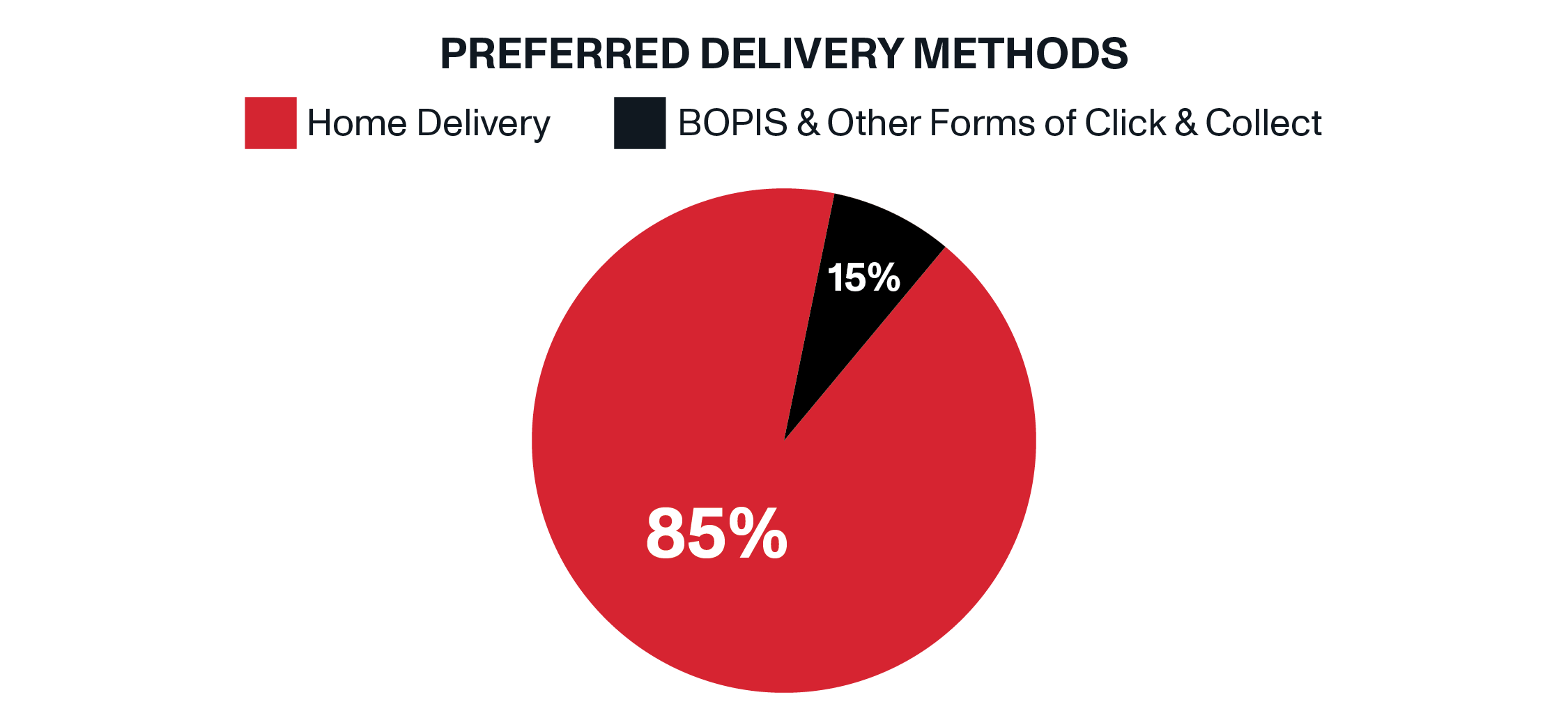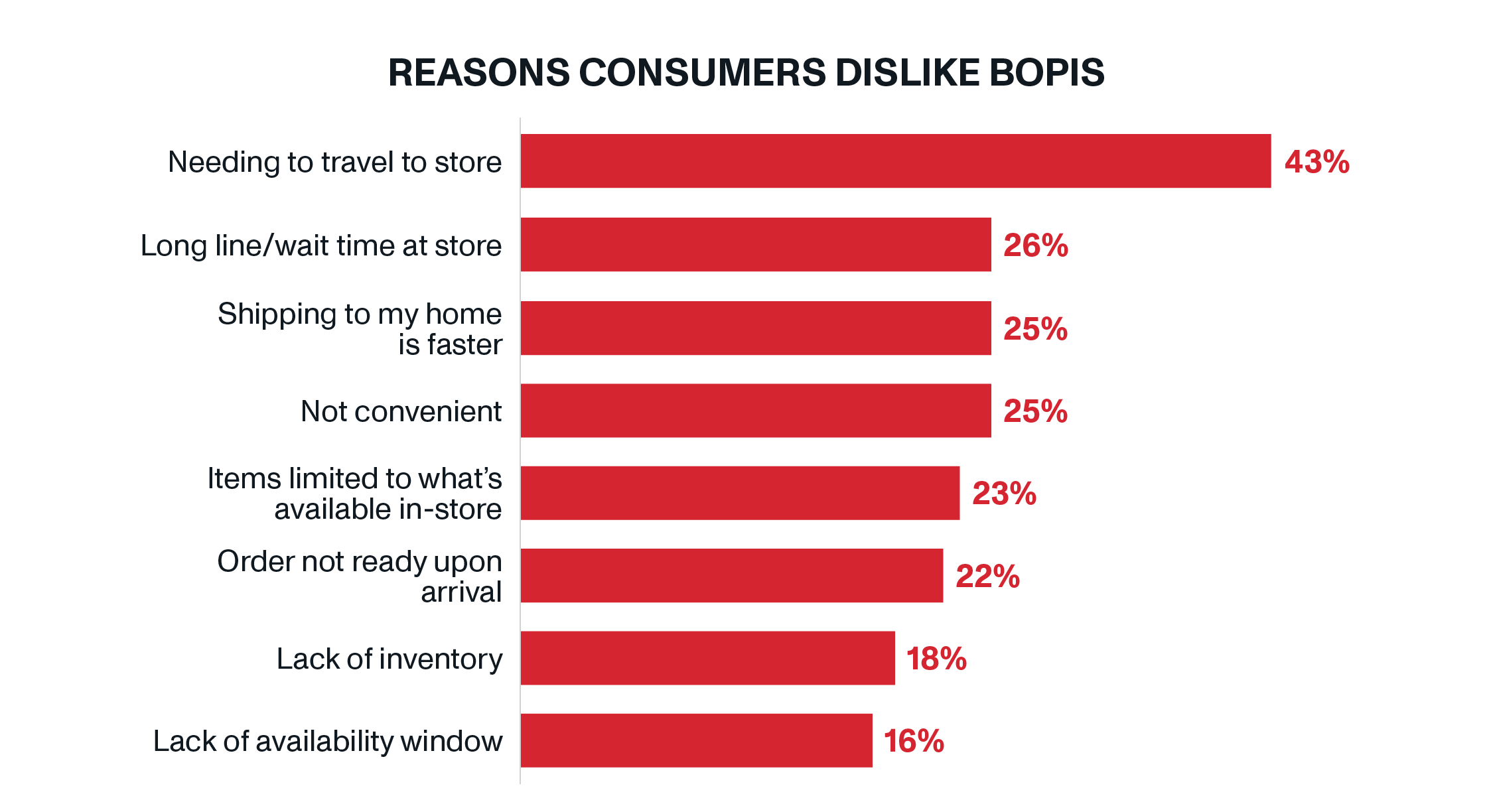 As more consumers shop online, the demand for home delivery will only continue to grow. Nearly all consumers plan to maintain or increase their use of home delivery, with 81% planning to make this their primary means of receipt. This shift is happening sooner rather than later for most, with 41% expecting to transition to home delivery within the next year.

Not only does BOPIS fail to meet consumer expectations, but it also creates significant operational and logistics challenges for retailers, largely stemming from the physical stores themselves. More than half of retailers are concerned about the impacts of ship-from-store on store operations and staff. Consumers anticipate their BOPIS orders to be ready for pickup within a few hours after checkout. This expectation for a quick turnaround adds pressure to staff who may lack training in order fulfillment. Additionally, brick-and-mortar stores were not designed for fulfillment and pickup of online orders, and when inventory is not quickly available, retailers risk losing sales to competitors that can fulfill a consumers' order more quickly.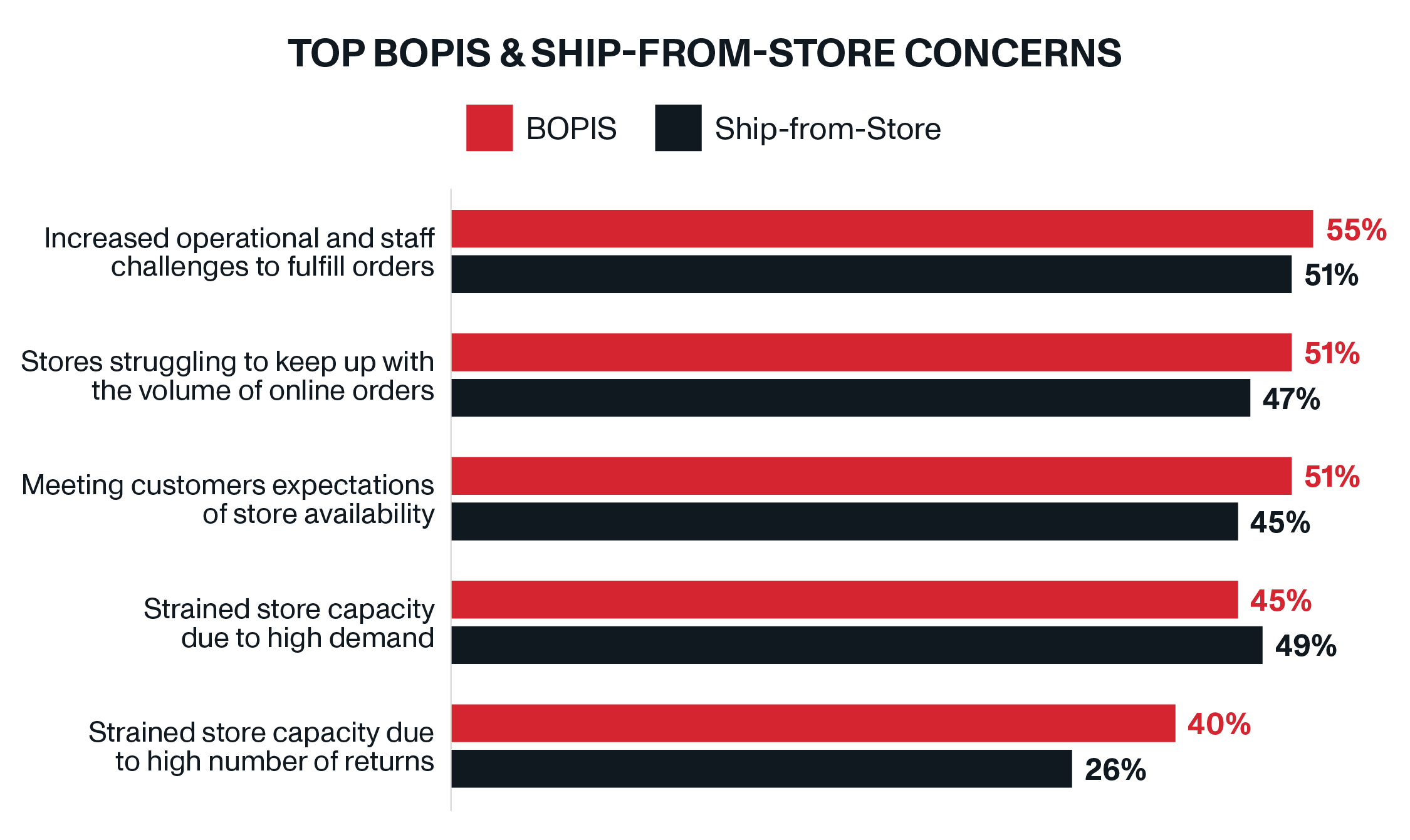 With the majority of consumers planning to transition to home delivery in the near future, retailers have a key opportunity to win market share by making investments to meet their expectations. Though BOPIS will continue to exist as an option, retailers should shift their focus and act now to leverage alternative carriers that can help them provide free and faster home delivery that builds brand loyalty, while helping them save money and increase flexibility.