Preparing for peak season doesn't just happen in the weeks before the holidays.
Heightened demand that retailers and shippers have experienced over the past few years doesn't appear to be slowing down. Shoppers in 2022 spent a record-breaking $211.7 billion online from Nov. 1 to Dec. 31—a 3.5% year-over-year increase even despite inflation and economic uncertainty. 2023 will be another busy holiday shopping season, with overall retail spending projected to increase by 4.5% to $1.328 trillion and retail e-commerce sales expected to grow by 11.9%.
Planning early will help you make the most of this positive momentum and set your supply chain up for success. Here are some strategies to help retailers prepare for a successful 2023 peak season:
1. Start Holiday Promotions and Discounts Earlier. Consumers are shopping for the holidays earlier than ever, with 56% indicating they will have already started their holiday shopping before October is over.
An extended holiday shopping season is a win-win for both consumers and retailers. Consumers can take advantage of promotions and discounts and have more time and options to shop in-stock inventory. Retailers that start sales and promotions earlier can level out demand.
2. Win Customers with Faster Delivery. Faster delivery is no longer important to just last-minute or impatient holiday shoppers but has become a top purchase driver among all types of consumers, with 97% calling this crucial to their buying decisions. When it comes to consumers' standard for faster delivery, 63% expect to receive their online orders within two days, while 39% that place an order with free shipping will only accept deliveries that arrive within this timeframe.



The number of consumers paying for expedited shipping has grown exponentially over the last few years—from 38% in 2020 to 58% in 2023—and retailers can capitalize on this trend heading into the holiday season by offering faster delivery options. The majority of shoppers have paid extra for next-day (69%) and same-day delivery (61%). When it comes to the amount consumers are willing to pay, 71% would spend at least $3 for next-day delivery, while 55% would spend $5 or more for same-day delivery.

Whether offered for free or at an additional cost, it is critical that faster delivery options are provided in the first place. Retailers that invest in faster delivery will be well-positioned to acquire and retain customers during the holiday season and beyond.
3. Meet Consumers' Demands of Free Shipping. Consumers have made one thing clear: offer free shipping or they will shop elsewhere. The stakes are especially high during the holiday shopping season, as consumers increasingly shop around for the best price and look for ways to make the most of their spending budget.

A longtime customer acquisition and retention tool, free shipping can be particularly useful to retailers during the holiday shopping season. Eighty percent of consumers would shop at a new retailer and 60% would purchase again due to free shipping.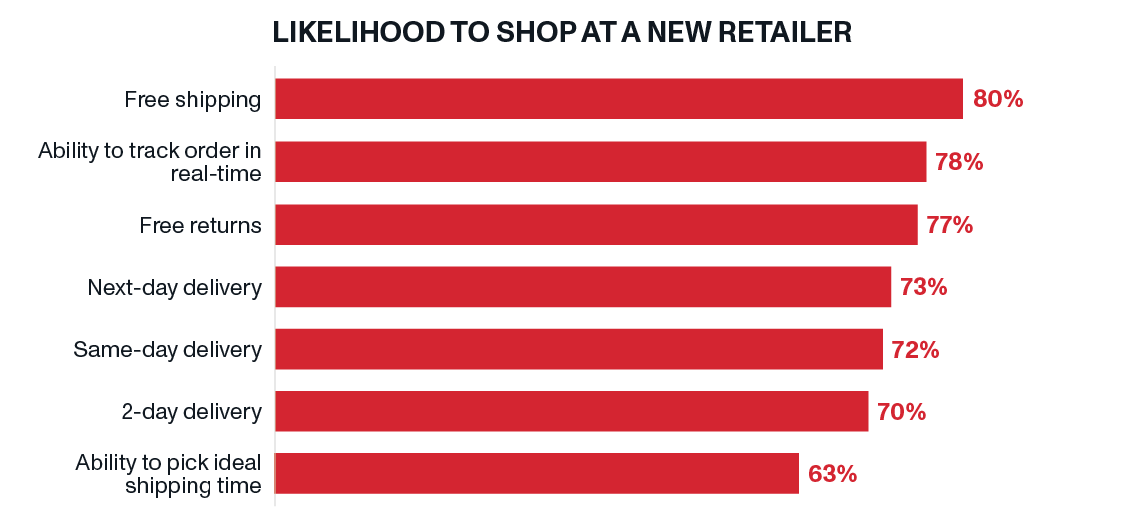 Retailers that offer free shipping and accelerate how quickly they get items on consumers' doorsteps will attract more customers and increase profits during the peak season, while also positioning themselves to take a larger share of the market long-term.
The holiday shopping season is a key opportunity for retailers to expand their customer bases, boost brand loyalty, increase revenue, and deplete year-end inventory. Retailers that prioritize peak season planning now and diversify their carrier bases with a proven alternative will be well-positioned to succeed this holiday season and beyond.
Learn how our residential e-commerce parcel delivery solutions help retailers  prepare for the holiday peak season and build a flexible, more resilient supply chain that creates competitive advantage.