By Josh Dinneen, Chief Commercial Officer of LaserShip. Originally published in PARCEL.
October 14, 2021 — The pandemic accelerated the shift to e-commerce, and elevated levels of online shopping show no signs of slowing down. According to our research, 86% of consumers surveyed plan to shop more online after receiving the COVID-19 vaccine, seven percent higher than in December 2020 when the COVID-19 vaccine was first introduced.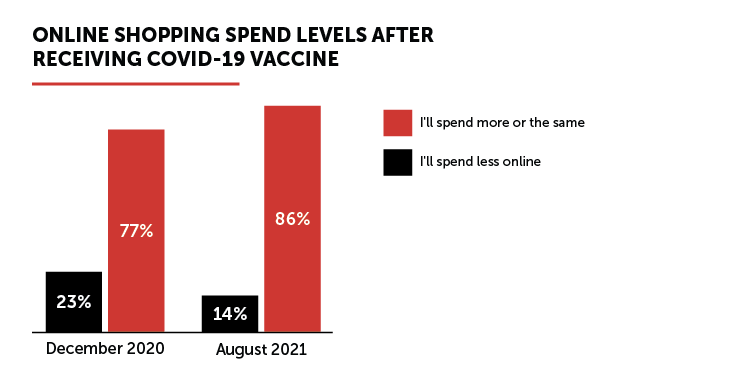 With more people shopping online, consumer expectations have clearly changed, and retailers need to adapt quickly in order to stay ahead of competitors and gain an unfair share of the growing e-commerce market.
How can retailers take advantage of this opportunity and build supply chains to create sustainable competitive advantage? Let's start by exploring how consumer behavior has evolved.
New Consumer Expectations
LaserShip partnered with Hanover Research to survey over 3,000 consumers over the course of two years to understand their shopping behaviors and what factors drive their online purchasing decisions. Here is what consumers are expecting:
Free Shipping Has Become Table Stakes – 80% of shoppers said free shipping is the most important factor when shopping online, while 73% of consumers said free shipping is the top reason they will continue to shop online. Perhaps most importantly, high shipping costs lead consumers to shop elsewhere and abandon their carts — 81% of shoppers switched retailers due to high shipping costs.
Consumers Are Choosing Fast Delivery and Are Willing to Pay for It – Delivery speed is more important than ever, and consumers are choosing retailers that can get items to them faster. In 2021 alone,80% of consumers surveyed made a purchase because next-day delivery was available. Seventy-three percent of consumers also chose one online retailer over another because it offered next-day delivery. Younger generations are not only more likely to shop at a new retailer with faster delivery options, but they are willing to pay for it: 31% of Gen Z consumers and 26% of Millennials have paid for faster delivery. Delivery speed will increasingly drive purchase decisions as younger generations increase their buying power.
Consumers Overwhelmingly Prefer Home Delivery – Eighty-eight percent of consumers prefer home delivery, despite the growth of buy online, pick up in-store (BOPIS) and other click and collect options.
Challenges Retailers Face Due to the Shift to E-Commerce and Evolving Consumer Behaviors
Now that we know what consumers are expecting, it's time to dive into the challenges retailers are facing as they face as they manage increased volumes. LaserShip surveyed over 100 supply chain executives at large retailers that spend at least $50 million annually on parcel to understand these challenges. The findings reveal that retailers are struggling to balance the increase in online shopping and consumers expectations of free and fast home delivery against rate increases, capacity constraints, and peak surcharges levied by national carriers. Here's a deeper dive into these challenges:
Rate Increases from National Carriers Are Hurting Profitability – Sixty-four percent of retailers surveyed have received an off-schedule rate increase in the last 24 months. Of those, 65% of retailers have experienced at least a 10% increase, resulting in hundreds of millions of dollars in additional spend that erodes profitability.

Capacity Limits Are Here to Stay – Thirty-four percent of retailers surveyed indicated their capacity is currently being capped. 49% of the excess volume that is not being covered is between 25-75%, which means hundreds of millions of packages are being capped annually because national carriers do not have the capacity. UPS is projecting package delivery demand during the holiday shopping season to exceed capacity by 5 million packages per day.

Meeting Consumer Expectations – When asked about their greatest logistics and operational challenge, 50% of respondents indicated their top concern was delivery delays and disruptions due to higher volumes, followed by meeting consumer expectations of fast delivery at 49% and free delivery at 38%.

How Can Retailers Build a Supply Chain that Delivers Competitive Advantage While Meeting Consumer Expectations?
Use Free Shipping for Customer Acquisition
Consumers have been clear about their demands for free shipping. However, only 18% of the top 1,000 retailers offer free shipping on all orders. Retailers that can offer free shipping will acquire more customers in an increasingly brand-agnostic world.
Faster Delivery Is a Differentiator—Build It into Your Supply Chain
Fifty-nine percent of shoppers surveyed have paid for faster delivery. As Gen Z and Millennials gain greater share of wallet, faster delivery will become the new normal. Seventy-eight percent of consumers also indicated they would sign up for a loyalty program in order to receive faster delivery. Retailers that build faster delivery into their supply chains will increase repeat purchases and customer lifetime value.
Diversify Your Carrier Mix to Ensure Capacity and Supply Chain Flexibility
With elevated levels of e-commerce here to stay and consumers expecting free and fast home delivery, single-carrier shipping strategies are obsolete and can no longer support retailers' growth. By adding regional carriers, retailers can improve their margins, ensure capacity, and meet consumer expectations of faster delivery, which will enhance the customer experience and build brand loyalty. Fifty-seven percent of retailers surveyed plan to shift more volume to regional carriers. Of those, 61% plan to shift 25-74% of their volume towards regional carriers.

As e-commerce continues to grow, retailers will face challenges while managing higher volumes and adapting to new consumer behaviors. However, with challenges come opportunities. Retailers that can build free and fast delivery into their supply chains while diversifying their carrier mix will create lasting, sustainable competitive advantage and gain more market share.
Data shown in charts reflects findings from LaserShip's 2021 surveys conducted with Hanover Research.