Shopping Behaviors and Delivery Expectations That Are the New Normal
The coronavirus has dramatically accelerated the growth of e-commerce and has impacted shopping behaviors both in the short-term and long-term. How can retailers respond to the opportunities created by the pandemic and best position themselves to capture more share of wallet?
In partnership with Hanover Research, LaserShip surveyed over 1,000 consumers to understand their shopping behaviors and delivery expectations before, during, and after the pandemic. The whitepaper below summarizes the results of the survey and will cover:
Ways shipping impacts shopping behavior during the pandemic
Generational shifts in shopping behavior due to the pandemic
How retailers can acquire and retain customers by meeting delivery expectations
Exhibit 1 –

Pre-Pandemic vs During
Pandemic Percentage of Purchases Made Online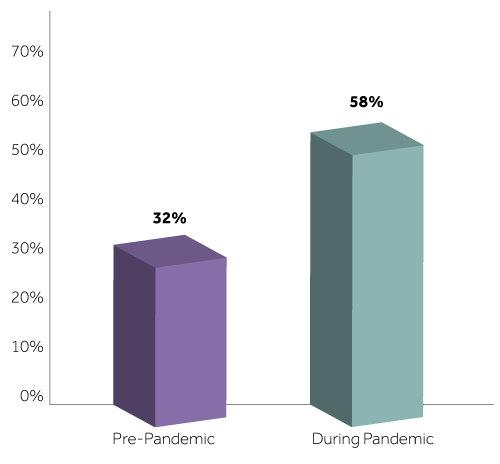 COVID-19 has forced all of us to change our behaviors in many ways, and how we shop is no exception. Consumers now make 58% of their purchases online since the pandemic began compared to just 32% pre-pandemic. Is the significant increase in online purchases a short-term spike, or an indicator of a permanent change to the way we shop?
The data suggests the short-term behavior becomes a habit, as 48% of consumers plan to shop more online even when they are not forced to due to the effects of the pandemic1.
COVID-19 has dramatically accelerated e-commerce's percentage of overall retail sales to 27% through April 2020, as online merchants and omnichannel retailers with strong digital channels experience holiday-level volumes. In contrast, the pandemic has also exacerbated the decline of department stores and specialty retailers such as JCPenney, Neiman Marcus, Brooks Brothers and 22 others, whom have all filed for bankruptcy since the start of the pandemic2. Roughly 100,000 brick-and-mortar stores are expected to close over the next 5 years as e-commerce's growth surges3.
As the US struggles to contain the spread of the virus and reopening plans remain uncertain across many states, it is reasonable to expect that the growth in online sales will continue.
Exhibit 2 –

US E-Commerce Penetration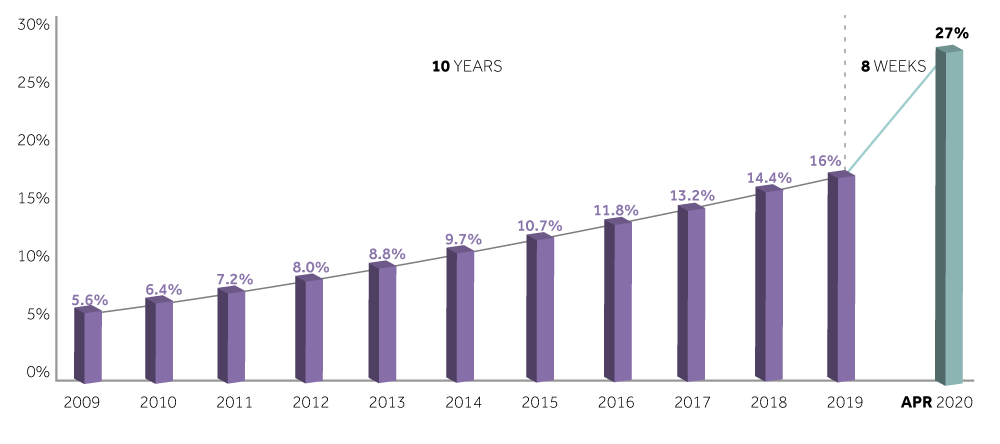 E-commerce growth as a percentage of retail sales.
The future is bright for e-commerce. To further understand how the pandemic has affected consumers shopping behaviors and expectations about the ecommerce delivery experience given the increase in online purchases, LaserShip commissioned a study from Hanover Research to survey over 1,000 online shoppers in the US. The results indicate that low shipping costs are still paramount, consumers are less satisfied with their shipping experience now versus before the pandemic, Baby Boomers plan to increase online shopping, and consumers want their merchandise delivered faster, and are willing to pay for it.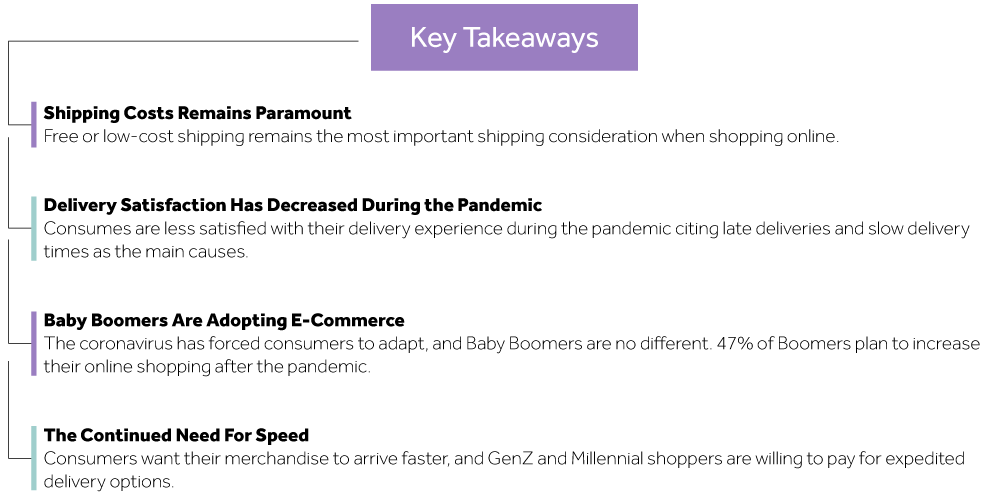 Shipping costs still influence shopping decisions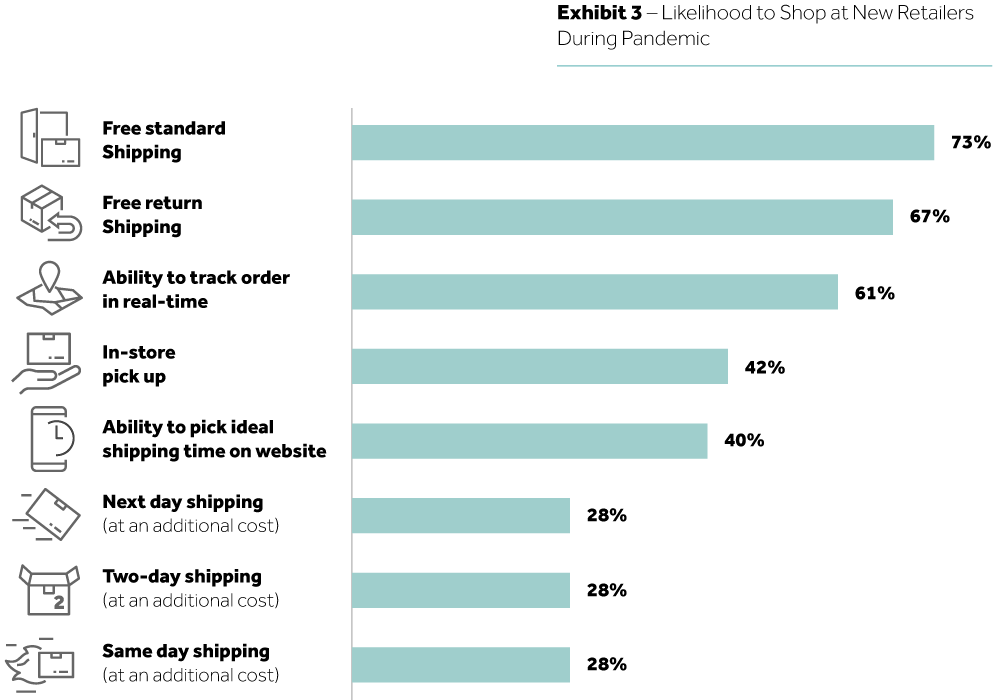 Low cost remains the most important shipping consideration for consumers when shopping online. Despite the increase in online purchases during COVID-19, 26% of surveyed consumers cite expensive shipping as one of the main reasons to not shop more online. Also, 19% of consumers stop shopping at an online retailer due to expensive shipping costs.
While expensive shipping may deter consumers from making online purchases, Exhibit 3 shows 73% of consumers are more likely to purchase from a new online retailer that offers some type of free shipping. 28% of survey respondents are more likely to shop at new retailers with expedited same day, next day, or 2-day shipping and are willing to pay for it.
While traditionally considered a cost driver, free shipping should be viewed as a value creator and part of a retailer's customer acquisition strategy as consumers expectations have evolved. For the sixth year in a row, 77% of consumers believe free shipping is the most important option when shopping online. 35% of consumers also say offering next day shipping is key in order for them to purchase more online5.
Delivery Satisfaction Has Decreased During the Pandemic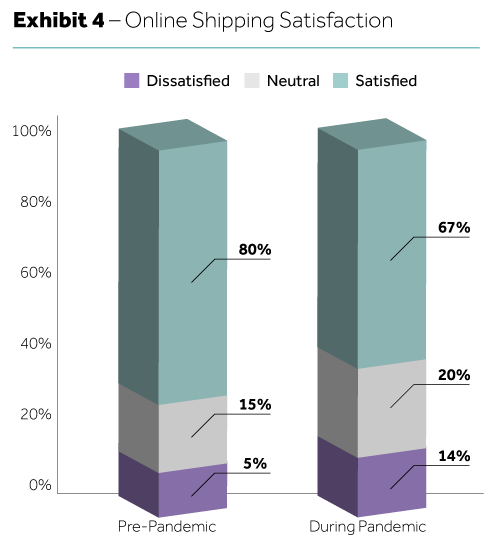 As shown in Exhibit 4, only 67% of consumers surveyed are satisfied with the shipping experience during COVID-19 compared with 80% of consumers before the pandemic. Exhibit 5 shows the top three reasons that cause consumers' dissatisfaction with their shipping experience are late deliveries (32%), followed by slow delivery time/lack of options (27%), and expensive shipping costs (19%). Also, consumers put more value in deliveries arriving on time during the pandemic as they are shopping online at a higher rate.
Despite consumers citing late deliveries as a reason for dissatisfaction, 63% of consumers surveyed have some tolerance for shipping delays during the pandemic and consider them to be acceptable given the supply chain disruptions. Also, 37% of consumers believe lowering shipping costs and providing free returns make delivery delays more acceptable. While Amazon has commoditized and set consumers expectations with standard 2-day, 1-day and Same-day delivery with Prime, retailers who can provide low-cost or free shipping and increase delivery speed to keep up with consumer expectations are poised to take advantage of e-commerce growth during the pandemic and beyond.
98% of consumers also believe that shipping impacts brand loyalty. Poor on-time delivery experiences have negative impacts on customer retention and lifetime value, as almost 84% of consumers are unlikely to purchase from a retailer after just one negative shipping experience. For those shoppers who make over 50% of their purchase online, 78% would not return after one negative shipping experience. In the current retail environment, consumers demand a superior, end-to-end online shopping experience from purchasing to delivery to earn their trust and share of wallet6.
Baby Boomers Are Embracing E-Commerce
The coronavirus has forced consumers to adapt many aspects of their lives, including adopting more digital channels. Exhibit 6 shows that of the consumers who planned to increase online purchases after the coronavirus has ended and restrictions have been lifted, 46% indicated that it is more convenient to shop online, 41% find online shopping saves more time, 36% believe it is a safe option, and 35% have become used to it.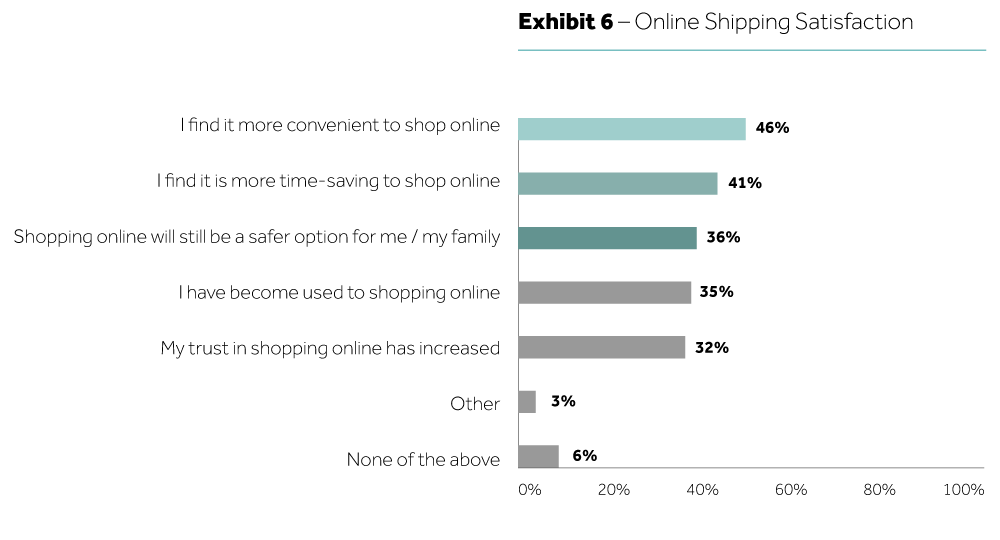 47% of Baby Boomers surveyed plan to increase their online purchases after the pandemic has ended, citing their increased trust in online shopping. Boomers control about 70% of all disposable income in the US while making up just 23% of the population7. This represents a significant shift given that pre-pandemic 82% of Boomers made less than half of their purchases online8. This may be the most significant change that has accelerated the conversion from offline.
The continued Need For Speed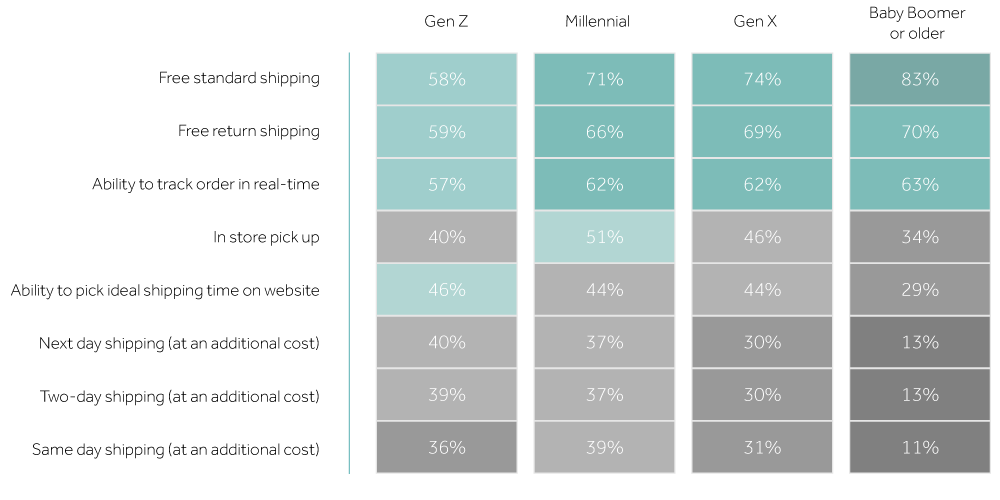 Gen Z and Millennials have come of age in the digital era and are accustomed to speed and convenience as part of their daily lives. While free shipping, free return shipping, and the ability to track an order real-time are the factors that increase the likelihood to shop at new retailers across generations, younger generations are more likely to shop at new retailers if expedited shipping is provided when compared to older generations. 40% of Gen Z consumers and 37% of Millennials surveyed would increase their probability of shopping at a new retailer if they offered next day delivery service at an additional cost, a stark contrast to their parents and older generations.
While most older generations have not paid for faster delivery during the pandemic, Exhibit 8 shows 39% of Gen Z consumers have paid for 2-day delivery, 31% have paid for next day delivery, and 32% for same day delivery. Furthermore, 21 to 25% of Millennials have also paid for faster delivery during the pandemic. According to Fast Company, Gen Z makes up about a quarter of the total US population and accounts for 40% of all consumers . Retailers that can create a seamless, mobile first purchasing experience and provide Gen Z and Millennial consumers with expedited delivery will position themselves to take advantage of their growing purchasing power and desire for instant gratification.
Faster delivery also has a direct impact on sales for online retailers. 18% of shoppers abandon carts during checkout because of slow delivery, which is the fourth highest option behind cost, account creation, and complex checkout process10. 63% of consumers say offering faster delivery would influence signing up for a loyalty program. As acquisition costs rise, retailers can reduce cart abandonment and improve online sales by offering faster delivery options that create meaningful value to consumers and incentivizes them to join loyalty programs11.
How Retailers Can Respond to Changing Shopping Behaviors
The coronavirus has accelerated e-commerce's growth and has caused shifts in shopping patterns. Baby Boomers have a newfound trust in online shopping and plan to increase their online purchases after the pandemic. While more consumers are shopping online, they are also demanding free, low-cost shipping options with faster, on-time delivery. Given the US's struggle to contain the spread of the virus and uncertain reopening plans, consumer shopping behaviors and shipping expectations have become the new normal. How can retailers respond to the opportunities created by the pandemic and best position themselves?
Acquire New Customers By Offering Free Shipping and Returns
Free shipping and returns are the two most important online shopping criteria for shoppers of all ages regardless of purchase frequency. Offering these options is key to customer acquisition, many of whom choose an ecommerce seller based on the cost of shipping. As the data indicates, free shipping has become table stakes for retailers to acquire new customers and should be part of an easy, seamless shipping, delivery and return experience.
Build Loyalty and Lifetime Value With Expedited Delivery Options
In 2020, 76% of consumers say fast shipping speed is a top characteristic of a positive experience with an online brand or retailer, an increase of 14% compared to 201912. Delivery speed will increasingly drive purchase decisions especially as younger generations make up a larger share of the market and increase their spending power. These consumers have shown they are willing to pay for faster delivery. Retailers that can create easy, convenient shopping experiences with faster delivery options will differentiate themselves as the behavior of GenZ and Millennials shapes the future of ecommerce. Retailers can also leverage faster delivery to reduce cart abandonment and increase brand loyalty, especially in a very competitive environment.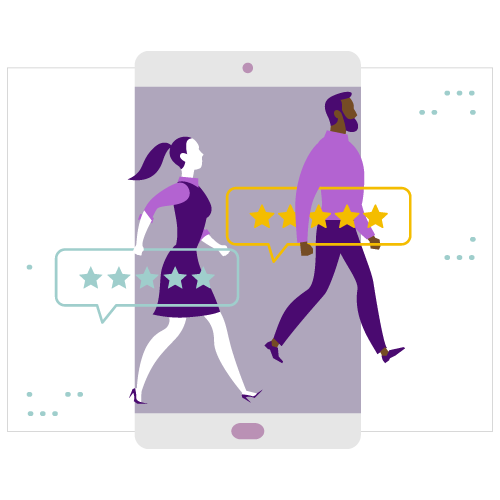 Diversify Carrier Mix to Improve the Delivery Experience
Today's consumers are demanding free and faster shipping options. However, they are also experiencing a lower level of satisfaction with their shipping experience, citing delays and slow delivery options as the primary reasons. Retailers should look to diversify their carrier mix and add regional carriers to meet consumer expectations around next day service and faster delivery times while also improving their margins. Retailers have experienced higher on time performance from regional carriers versus national carriers during the pandemic. A single source delivery provider is no longer able to maintain the reliability and speed that consumers, especially younger generations with growing purchasing power, are demanding. Regional carriers also have less disruption risk to their supply chains and delivery networks than national carriers, reducing the likelihood of delays.
A large gap still exists between consumer expectations around free and fast shipping and what retailers are providing. Since online purchases have increased and show no signs of returning to pre-pandemic levels, retailers cannot afford to ignore the opportunity to offer faster, more reliable shipping options to acquire new customers, build brand loyalty, and improve the delivery experience.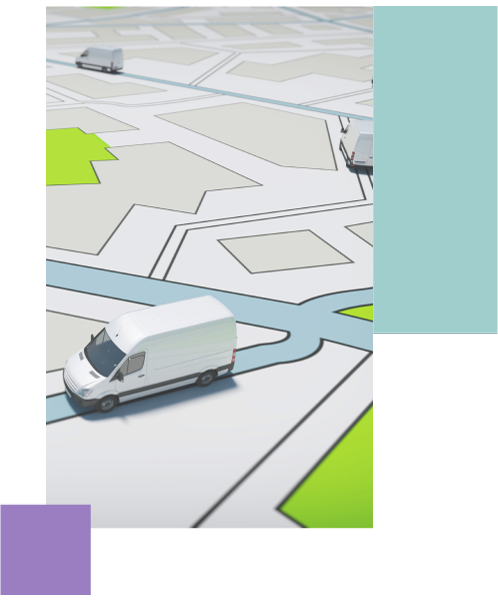 ---
Resources
1 https://commercenext.com/how-will-covid-19-change-shopping-habits/
2 https://www.retaildive.com/news/the-running-list-of-2020-retail-bankruptcies/571159/
3 https://www.wsj.com/articles/coronavirus-finishes-the-retail-reckoning-that-amazon-started-11589459920
4 https://www.clearbridge.com/news/blogs/2020/new-normal-retail-online.html
5 https://1bnznaaikg11oqsn3tvx88r9-wpengine.netdna-ssl.com/wp-content/uploads/2019/09/WalkerSands_Future_of_B2B_Retail_2019_WSRB_FINAL.pdf
6 Last Mile Delivery: What Shoppers Want and How to #Save Retail, Convey.
7 http://www.skulocal.com/insights/the-online-shopping-habits-of-todays-baby-boomers/
8 https://nrf.com/blog/how-covid-19-impacting-boomers-shopping-behavior
9 https://www.fastcompany.com/3045317/what-is-generation-z-and-what-does-it-want
10 https://baymard.com/lists/cart-abandonment-rate#why-users-abandon
11 https://cdncom.cfigroup.com/wp-content/uploads/CFI-Radial-Report-Dec-2019.pdf
12 https://www.avionos.com/wp-content/uploads/2020/06/2020-B2C-Report-Final-Who-Wins-Where.pdf
---
About The Author
Josh Dinneen is the Chief Commercial Officer at LaserShip, the leader in last-mile delivery and largest regional ecommerce parcel carrier in the US, where he oversees revenue strategy, sales, marketing, account management, and call center operations. Josh has over 18 years of experience in the industry, and prior to his current role, he created LaserShip's e-commerce hub and spoke delivery network as the Vice President of Supply Chain.
About Hanover Research
Founded in 2003, Hanover Research is a global market research and analytics firm that delivers market intelligence through a unique, fixed-fee model to more than 1,000 clients. Headquartered in Arlington, Virginia, Hanover employs high-caliber market researchers, analysts, and account executives to provide a service that is revolutionary in its combination of flexibility and affordability. Hanover was named a Top 50 Market Research Firm by the American Marketing Association in 2015, 2016, 2017, and 2018, and has also been twice named a Washington Business Journal Fastest Growing Company. To learn more about Hanover Research, visit https://www.hanoverresearch.com
Definitions
Generation Z / Young millennial: 18-35 years old
Millennial: 26-34
Generation X: 35-54
Baby Boomers and older: 55+
Methodology
The findings in this report are based on a survey commissioned by LaserShip and conducted by Hanover Research of 1,002 U.S. online shoppers about shipping and delivery experiences before, during, and after the pandemic. The survey included responses from Generation Z (20%), Millennials (25%), Generation X (25%), and Baby Boomers and older (31%). Percentages may not add up to 100% due to rounding. Some respondents chose not to answer certain demographic questions.